Whether you are new to landlording or a seasoned investor, these tips may help to make your landlording journey a smoother one.
1 – Tenant checking – phone a prospective tenant's previous landlord
When doing your due diligence on a prospective tenant one of the important things to do is to phone the tenants landlord.
The tenants current landlord will in all probability give them a great reference, either because they are good or possibly because they want to get rid of them so it wouldn't be in their best interest to say anything other than good things about the tenant.
Try this. Speak to the landlord who the tenant rented from prior to their current one. This landlord has nothing to lose about giving an honest reference.
If the tenant was awful they'll give you a warning but on the other hand if the tenant was good, they will sing their praises.
2 – Keeping a professional relationship with your tenant/s
Maintaining an approachable yet professional relationship with your tenant/s is important but don't cross that fine line where you develop a friendship and the line between being their landlord versus a friend has blended into one.
When the time comes to increase rent, address rent arrears or deal with maintenance issues, if you have successfully managed an approachable yet professional relationship with your tenant it will be much easier to deal with issues when they arise.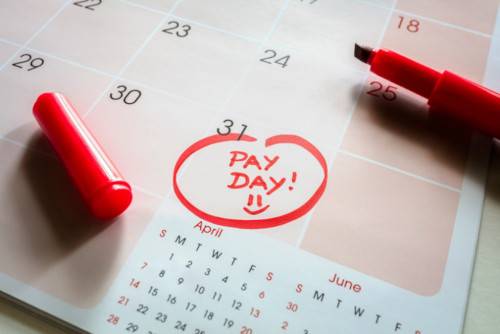 3 – Align rent with the tenants pay day
Before completing the tenancy agreement a good tip is to ask your tenant when their pay day is and align the rent payments with their pay date. This way you will be less likely to have to deal with unpaid rent.
Another tip that some landlords are doing is asking the tenant to set up a direct debit so that the rent is deducted as soon as they receive their pay.
4 – Retaining tenants
Showing your tenants some appreciation will go a long way.
Doing things such as sending them a birthday card, checking in on them if there's been a major weather event such as flooding and having a general chat to them when you call to discuss something about the property will be really appreciated by your tenants.
5 – Keeping proper tenancy records
Changes to the Residential Tenancies Act in 2021 means that it's now mandatory for landlords to keep copies of all documents that relate to the property during the tenancy and for 12 months after the tenancy ends.
Rent and bond records have to be kept for 7 years after the tax year to which they relate.
If you have a smartphone you can download an app such as one called Mobile Scanner App (for android) so that you can easily scan receipts and invoices and then store them in a file that you create for the property or sync with your accounting software.
6 – Worn carpets
Indentations that appear when a bed or couch is moved in otherwise good carpet is a real pain.
A trick to bringing them back to life is to place ice cubes over the indents. This will lift them out and your carpet will spring back to life. Another option is to use a handheld steamer which will also get them out.
7 – Annoying mould
Mould!! Who doesn't despise it? Mould can seriously affect your tenants health and cause damage to your property.
A trick one landlord suggested is to fill a plastic spray bottle with white vinegar. Spray on to the mould (especially good on wooden window frames), leave it for a few minutes then wipe of.
This will remove most of it, do it again and you will find the mould disappears.
8 – Keep a supply of paint handy
Whether you own one property or a number of properties a good landlord hack is to keep a supply of paint handy so that it's easy to do touchups when needed.
Professional landlords tend to paint the interior of their properties all the same colour so that in between tenancies it's easy to go and freshen up the property before new tenants move in.
A light neutral shade gives rooms a light airy feel which will be appealing to tenants.
9 – Keep gardens low maintenance
I've lost count of how many times I've heard a tenant say ' I love gardening' only to find, when we go to do an inspection, that the gardens are overgrown and unloved.
Wherever possible make sure the gardens are as low maintenance. It's less work for your tenants and less hassle for you.
Tenants can always add pot-plants and planter boxes to pretty up the garden which they can then take with them when they leave.
10 – Attend to maintenance promptly! (this is the top tip)
One of the most frustrating things for tenants is when issues at the property aren't attended to.
In the tenants mind they think 'we pay good money to live here and the landlord doesn't even look after the property'.
Your tenant will love you forever if, when they call about a maintenance issue, it's attended to promptly.
For any advice with your landlording journey don't hesitate to reach out to us here at Renthub by clicking here or phoning 09 603 2655.